Director
Vicky Fox
Director
Vicky has worked at Doorstep for 25 years and worked with children and families for 10 years previous to joining Doorstep. You can find out more about her work with and aspirations for Doorstep in this video.
---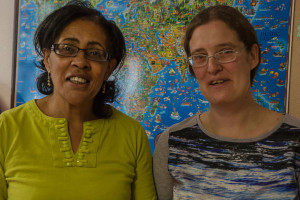 Children's Workers – Doorstep is fortunate to benefit from the skills and experience of its two part-time employees Ebanie Kajue & Sarah Lough.
Volunteers: Kiki,Valbona, Mel, teachers & high school students from The American School in London
Our volunteers are essential in helping to run Doorstep's day to day services. Kiki and Valbona ex-service users of Doorstep who wanted to give something back, while Mel is a current service user. We also have 2 teachers and approximately 10 high school students from the American School in London who give their time to run an after school session twice per week.
Our History
Founded in 1982 as the Adelaide Road Homeless Families Project to help 28 local families, Doorstep was renamed in 1989 when it moved to its present location in the basement of one of Camden's largest hostels for homeless families.The name Doorstep was chosen to reflect the project's accessibility
Read more