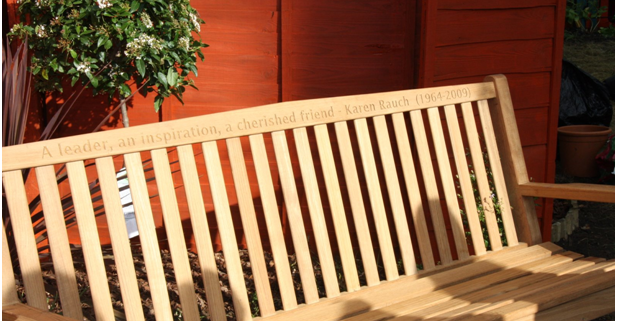 Many years ago a parent at the American School in London (ASL) named, Karen Rauch, joined Doorstep's board of trustees. We had not at that time established the partnership working nor the biannual Community Service Day (CSD) with ASL. Karen was instrumental in establishing the relationship and took part in the very early CSD efforts.
Her family moved back to USA and a short time afterwards she very sadly died. That was back in 2009 and that autumn's CSD was focused on remembering her. Many of her friends participated and a bench with an inscription dedicated to her was bought for the garden.
At this year's autumn CSD, on October 21st, 30 volunteers beautified the garden and undertook various other tasks. The very next day one of Karen's daughter's appeared at my office door asking to see the garden and bench. She had heard about it and had made the journey from USA to see it. I took her to the garden and left her to have a little quiet time sitting on the bench and remembering her Mum. I told her that ASL were here the day before making the garden look beautiful and she was really touched. She intends to come back one day with her sister and I have invited them to plant something in memory of their Mum if they would like to.
Looking back over the period when Karen joined Doorstep to now it's incredible how much she helped us to achieve in terms of growing the board and raising our profile.
This is the tribute to Karen, no less relevant today, which was included in our Annual Report for the year of 2009:
Karen joined Doorstep's management committee in 2004, in response to an appeal for new members. The committee had become depleted and we needed new members who could bring relevant skills. Karen responded and continued to serve until June 2009.
She had worked in a Rape Crisis Centre in USA and had experience in managing volunteers. Her first piece of advice to us was to revisit our publicity materials and create a brochure which could be used to raise Doorstep's profile.
Karen was very active in community service both through the school her daughter's attended and through her work with St John's Wood Women's Group and Hampstead Women's Group.
She networked through these associations recruiting more members to the management committee. Karen became Doorstep's ambassador, giving talks to a variety of schools and organisations about our work. She was absolutely instrumental in developing the phenomenal practical and financial support Doorstep now receives from 5 local private schools and 2 women's groups. This support takes many forms, the gifts for Doorstep's children at Christmas, donations of clothing, toys, books, household goods which stock our weekly bazaars, community activities to raise funds and volunteering.
Karen undertook research on potential funders, helping to write bids. She used her considerable skills to help develop existing policies and create new ones. She held office as Company Secretary and was exemplary in her reliability in attending meetings. Karen also participated in subgroups, taking on specific pieces of work to develop Doorstep. She sought out and utilised every available opportunity to enhance, promote and bring benefit to Doorstep.
Karen was equally willing to roll up her sleeves to help with cleaning and gardening to maintain the premises. Last October I was unable to be present to facilitate the team of volunteers from American School in London, who prune, weed, plant and generally maintain our gardens twice a year. Karen didn't hesitate to offer to take my place to work with the volunteers and her own family to ensure the work went ahead.
She left Doorstep in June of this year due to her family returning to USA. We were shocked to the core to hear the news that she had died suddenly and unexpectedly in August.
It was a true reflection of the respect and affection so many people held for Karen that this October's gardening day became Karen Rauch Memorial Day. A total of 56 people turned out to pay tribute to her, to work the gardens and turn them into a living memorial. It is a beautiful place for children to play, a peaceful place for adults to reflect and find renewal and a very fitting reminder of all that she did. We give thanks for knowing her and will always remember her.
https://www.doorsteplondon.com/wp-content/uploads/2018/11/image-5.png
413
617
[email protected]
/wp-content/uploads/2016/03/logo-6.png
[email protected]
2018-11-01 15:47:43
2023-03-21 13:01:56
A Tribute to Karen Rauch