So our summer programme 2018 has come to an end and what an action and fun packed summer it has been for all of us here at Doorstep.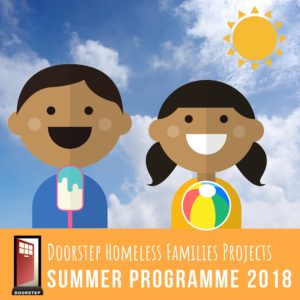 The children have been entertained with 4 weeks of back to back activities and the families were able to enjoy 4 trips outside of London with 3 trips to the seaside and one trip to the UK's largest zoo.
Our programme was split in to both morning and afternoon sessions, with the morning sessions dedicated to our under 4's and the afternoon session created for our 5 and overs.
Each week the children in both sets of age groups participated in a variety of activities covering arts, crafts, science and experiments, cooking, water, sports and of course games.
We made healthy snacks such as guacamole and hummus and smoothies, we enjoyed a session with MACE construction who taught us all about the different jobs in construction and then working in teams the children made models of buildings out of lego. We put eggs in cups of different substances to see the effects of drinks on out teeth, the children added cola, orange juice and water to see which dissolved quickest amongst many other activities.
Our family outings saw us visit Clacton on Sea, Ramsgate, Whipsnade Zoo and finally Margate.  Whilst we weren't able to guarantee good weather we could promise that we would all make the most of our trips whatever the weather.
I think it's fair to say we had a great summer.